Electrostatic Disinfection Services
Disinfection Fogging for Commercial Buildings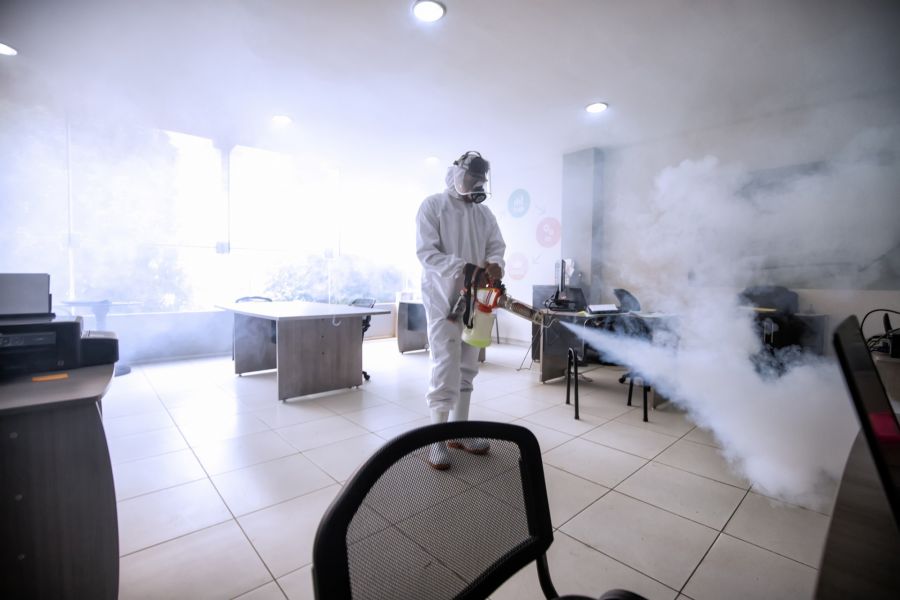 Keeping a commercial environment clean and disinfected takes an ongoing effort and a dedicated commercial cleaning team that understands the importance of removing germs from high-touch surfaces to prevent the spread of sickness. Jay Mckenna Cleaning Services, LLC has provided electrostatic spray disinfection services for more than 29 years.
---
Call for a FREE Quote
---
Does Electrostatic Disinfection Work?
Disinfecting surfaces using an electrostatic spray is a very effective method to disinfect multiple surfaces. In fact, the spray method is able to coat all surfaces evenly and thoroughly. Of course, the spray is just the method of application. An appropriate FDA-approved disinfectant must be used. Jay Mckenna Cleaning Services, LLC uses disinfection products that are approved and proven to kill 99% of viruses and bacteria. When safety and building health matter, call the company that understands the process: Jay Mckenna Cleaning Services, LLC.
What Are the Benefits of Using Electrostatic Disinfection?
There are many benefits to using Jay Mckenna Cleaning Services, LLC's electrostatic disinfection services. In the commercial cleaning industry since 1994, Jay Mckenna Cleaning Services, LLC has built a solid reputation around using tried and true methods and state-of-the-art equipment, such as our electrostatic foggers to disinfect surfaces.
The benefits of using this method are many, including:
Electrostatic spraying of disinfection covers hard-to-reach surfaces.
The products we use kill 99.999% of pathogens for up to 30 days.
All disinfectants used by Jay Mckenna Cleaning Services, LLC are OSHA, EPA, and CDC approved and compliant.
Provides a safer and more thorough application to surfaces than paper towels or microfiber cloths and without residue.
Effective against highly contagious viruses and bacteria.
Shown to decrease in workplace absenteeism due to sickness.
Make your visitors and guest feel safe in your facility.
Is Electrostatic Disinfection Safe Around Electronic Equipment?
Jay Mckenna Cleaning Services, LLC cleaning technicians are asked this quite a bit. People are concerned that spraying chemicals will damage computers and other electronics. The answer is yes, spraying at close range, directly on monitors and inside of electronics can cause damage. The team at Jay Mckenna Cleaning Services, LLC is trained to treat electrical equipment with extreme care. We recommend that you put paper documents away and close laptops, before we arrive, but of course, we'll take extra precautions to keep your equipment safe.
How Long Does Electrostatic Disinfection Last?
Electrostatic spraying, or fogging places a fine coating over surfaces without leaving a sticky residue. Left untouched, the surfaces will remain disinfected for up to 30 days. However, in very busy spaces like schools and gyms, if a contaminated hand touches the surface, that surface is no longer decontaminated. Jay Mckenna Cleaning Services, LLC recommends that daycare centers, medical facilities, and gyms get sprayed daily. Other work environments can schedule services less frequently depending on traffic and usage.
---
Call for Fast FREE Quote
Dial Area Code first please.
---